...and she's not even good at it. Not only was she lip-synching when she made her singing debut on Good Morning American, but she was lip-synching BADLY.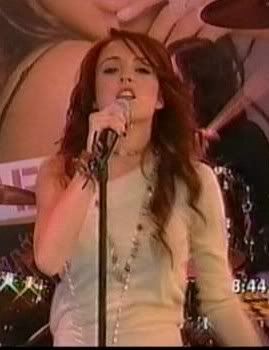 According to several news accounts, Lohan used backing tracks during her song on Monday and didn't do a particularly good job of syncing up her performance with said tracks. At one point, the show's director cut away because the cameras caught her taking a breather and not singing during at least one moment in the song, Rumors, even as her voice continued to pipe through the speakers.
Casablanca Records spokeswoman Kim Jakwerth tells the New York Post, "The first song had some background. It's a little more rock and roll and needed it there. It's about how you make the song sound exactly like the record."
Just last week, Lohan told Launch.com that she'd made a point of recording songs she'd be able to sing live, and she promised that there would be no Ashlee Simpson moments during her promotional TV appearances. ''I wanna be able to sing stuff to show that I have a voice and I can actually project,'' she said. ''And I wanna find things I'm not gonna have to lip sync to, and that, when I sing it in the studio, it's something that I could also sing live and sound just as good as I did on the CD.''