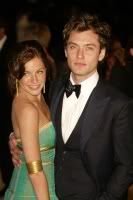 Jude Law is engaged to marry Sienna Miller after the actress accepted his romantic Christmas Day proposal.
Miller - who met Law on the set of Alfie soon after his bitter 2003 divorce from Sadie Frost - was overcome with emotion when the actor pulled out a diamond engagement ring and asked her to wed him.
Following Miller's immediate acceptance, Law then informed his children Rafferty, Iris and Rudy of his martial plans the following day when he whisked them off for a sunny holiday in the Seychelles.
A spokeswoman for the couple, Caira Parks, last night confirmed Law and Miller will tie the knot - although they're still working on a date for the big day. She said, "It's true they are engaged. Jude has bought Sienna a big cluster diamond ring. He asked Sienna to marry him on Christmas Day. They spent Christmas together in England. They then headed to the Indian ocean. They have told their families the news and they're thrilled, as are Jude's children. They love Sienna and can't wait for the wedding. No date has been set yet and it is not known whether it will be this year. The date will depend on their filming schedules. They are both very busy at the moment."
from www.imdb.com